Let's Talk!!!!
We have made it to May!!! This has been a great year for us and we are already making plans for the upcoming 2017-18 school year. May is a very busy month for us. We are testing, testing, testing!!! Please know that these tests are necessary and they provide valuable data to us regarding our children.
We have quite a few events that are occurring and I trust that you will be supportive of each and every one of them. Pre-K and Drew Headstart have already had transition day. The 5
th graders will transition to DHMS on May 12th. Our students have almost finished all of the state required testing. Thank you for your understanding as you have come to the school. We will all wear purple on the 19th of May in honor of Lupus Awareness. We will also host the Superintendent's Scholars Dinner on May 19th. Invitations will be forthcoming. Our area high school students will stroll our halls on May 23rd as a symbol of dedication and hard work. We are prepared for a strong ending.
Our summer school program will begin on June 5 – 30. Applications will be sent home soon. I trust that you will have a wonderful, safe and fun-filled summer. We appreciate you and your support as we continue to carry out our mission and vision.
Barbara C. Akon,
Principal
---
Mission
To provide a clean, safe, and orderly environment to student achievement and growth.
---

Upcoming Events!
May 1-15 - STAR Assessments

May 2-8 - MAP Testing

May 9-10 - MST2

May 11 - 5th Grade Field Trip

May 14 - Mother's Day

May 18 - Preschool Graduate - Class of 2017!

May 19, 22-23 - 9Weeks Assessments

May 24 - May Day

May 25 - 5th Grade Promotion Ceremony & Awards Day

May 25 - Last Day of School (Dismiss @ 1pm)
---
CONGRATULATIONS Ms. Akon on winning Sunflower County Consolidated School District's Administrator of the Year! Please click on the 'Magazing Cover' to learn more about Ms. Akon!!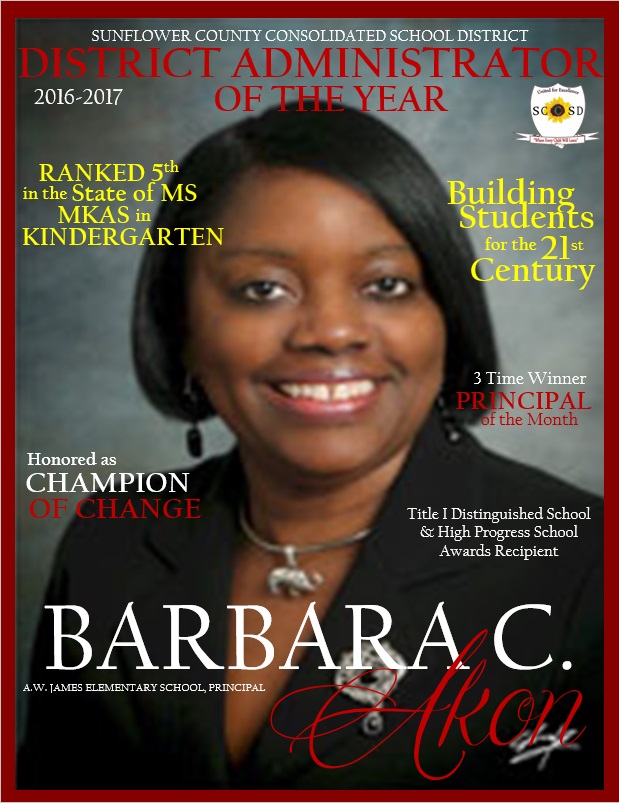 ---
Students & Parents
QUICK LINKS TO STUDENT AND PARENT INFORMATION
---
---
- AWJames Accelerated Reader Update -
---